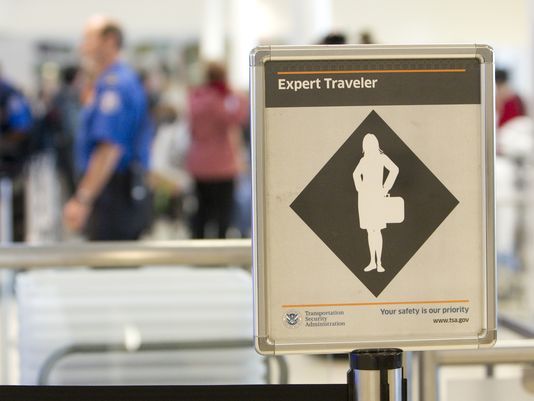 In 2008, the TSA launched a program called "Choose Your Lane" that encouraged travelers to sort themselves into three groups at airport security lines. The goal was to direct slow-moving families and casual travelers into dedicated lanes, freeing up other security lines to be sliced through by experienced fliers. The program's signage depicted these "experts" as sophisticated businesspeople who pack light and know the fastest way through the airport gauntlet.
If you have one of these travelers on your holiday gift list, a great flying or packing accessory is the perfect way to give them something they'll actually use. In this list of the best gift items for business travelers, you'll find no travel notebooks or whimsical maps—just tactical gear to make travel more efficient and comfortable for the black diamond professional in your life.
Inspection-friendly packing accessories
$18 – $30
If there's one aspect of the flying experience everyone could stand to optimize, it's getting through the security line. These gifts help your traveler organize their stuff neatly and transparently. See-through, modular containers are trending right now; items with names like "packing cubes" and "travel folders" ensure efficient use of luggage space, easy inspection by security agents, and wrinkle-free clothing.
Luggage scale
With airlines engaged in a never-ending race to the bottom of fees and surprise charges, gifting your traveler a convenient way to ensure their luggage stays under weight is always helpful. Especially if they have to pack for a trip that will start out as business and turn into a vacation.
Smart luggage
The current generation of electronic suitcases and carry-ons offers a spectrum of functionality that ranges from gimmicky to borderline essential. It's up to you to decide if your traveler needs a motorized carry-on they can ride to the terminal, but tracking a bag digitally and having a convenient laptop table will help any traveler navigate the airport. These bags are also more secure, since you can follow their whereabouts no matter how mishandled they are.
Airport and in-flight clothing
The two most important qualities of airplane clothing are 1) the ease of adding / removing layers, and 2) providing access to the various items travelers will need handy. Speakeasy's Hidden Pocket Scarves, for example, offer convenient and secure pockets in a scarf that fliers can easily throw on in a chilly plane cabin. Compression legwear and socks, meanwhile, promote bloodflow during hours of cramped sitting.
Neck pillows
If your traveler has had a neck pillow for a few years, or if they've never been able to find one that felt comfortable, you might want to take a fresh look at what's out there. Some designs have become truly eccentric, like the pictured Ostrich Pillow, but other new options offer a full range of mobility, warmth, comfort, and space conservation.
Portable iron
Nothing keeps business clothes looking fresh like a quick once-over with a steamer or an iron. Portable travel steamers fit inside any carry-on, and travel irons can be as small as a computer mouse. One of the more versatile options, the Collar Perfect (pictured) is 5" long and works as both a collar crisper and, unfolded, a flatiron.
Seat-back tablet holder
If you're looking for a fun, inexpensive novelty that's still useful, look no further. The Airhook tucks into an upright tray table and offers a cup holder and a bracket for displaying an iPad, Surface, or other tablet. It also folds down to a compact size for easy transport.
Acoustic phone amplifier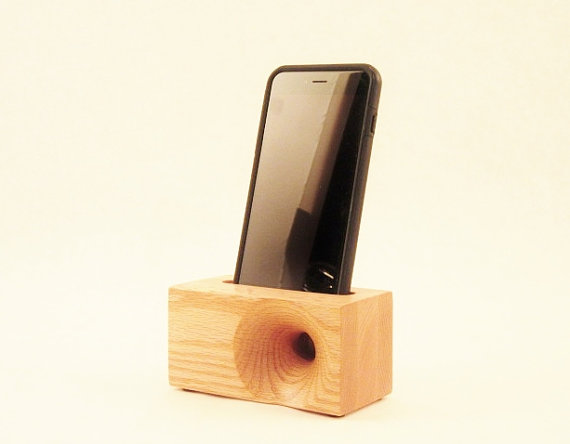 One easy way to make any hotel room more comfortable is to pack a small amplifier for a mobile phone. Stay away from the crowded market for Bluetooth speakers; most of those take up too much space, weigh too much, and tend to provoke inspections at the security checkpoint. Much more convenient are speakers small enough to fit in a backpack pocket, or products that have no electronic components, like the pictured wooden amplifier.
Automated door alarm
Portable alarms are small and inexpensive, but they offer irreplaceable peace of mind. These lightweight units are especially useful if your traveler frequently stays in AirBnB-type accommodations, which often lack the locks built into hotel room doors.
Coming soon: Google Pixel Buds
Google is marketing their recently-released earbuds with the promise of real time translation, which would be a momentous development for international travelers. Using Google Translate (and optimally paired with an Android, though they claim to work on iOS as well) the Pixel Buds will be able to translate the wearer's speech and play the output through the handset speakers.
Early reviews have been mixed, at best, and the technology seems to be a ways off as of now. But when this works seamlessly, Google Translate and software like it will be a watershed moment for not only business travel, but business conversation in general.