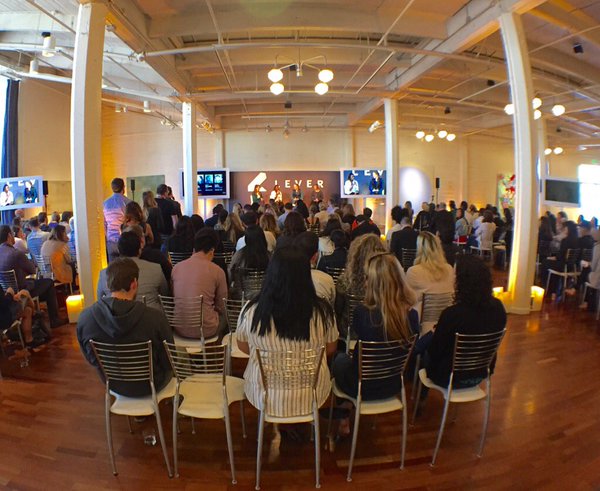 Tuesday, May 17th, 2016 was the inaugural Talent Innovation Summit hosted by Lever and we were excited to be there to witness this awesome event. Last week we announced our new integration with Lever to help recruiters automate the candidate reimbursement process as a natural part of their workflow and yesterday, as a proud conference sponsor, we got to show it off in an environment filled with innovation and fresh ideas.
There were more than 250 attendees with hundreds more streaming live online. The conference featured high-caliber speakers and covered topics ranging from strategy to diversity inclusion to the future of recruiting. The hashtag #TalentInnovation quickly became a trending topic on Twitter!
Lever also announced an awesome new feature for nurturing candidates in your recruiting pipeline. The feature allows recruiters to add candidates to a preset email cadence that can be personalized. It was noted that recruiters can spend up to 7.5 hours sourcing candidates just to get one email reply – which doesn't even mean a positive reply. The email cadence will help recruiters stay on top of candidate communications and get more ROI from the hours spent sourcing.
Here are some great Tweets and photos from the conference. A big thanks to Lever for hosting!
Excited for @Lever's #talentinnovation summit to start! pic.twitter.com/HNCJsErEU3

— Walta Nemariam (@Walta_N) May 17, 2016
The Wish team is so excited to be at the @Lever #TalentInnovation Summit! 🎉 pic.twitter.com/3Wp2t2nkHV

— Dianna Chen (@DiannaaaC) May 17, 2016
Lever Nurture: Develop meaningful relationships with the right talent, at scale. #talentinnovation pic.twitter.com/mJI7sE6BJb

— Lever (@Lever) May 17, 2016
The harder you're willing to fight for a candidate the more likely they're a stunning colleague #talentinnovation @nellie_peshkov

— Weirdly (@WeirdlyHub) May 17, 2016
.@Netflix, innovation does not mean the coolest tools. It's being great at finding stunning colleagues- @nellie_peshkov #talentinnovation.

— Lever (@Lever) May 17, 2016
Promote the "Power of context not control" for internal policies – listening to @nellie_peshkov of @Netflix at @Lever #TalentInnovation

— Abacus (@abacus) May 17, 2016
Our one & only @nellie_peshkov leading the keynote at the @Lever Summit today! #talentinnovation #netflix pic.twitter.com/NyKgsrqUvf

— Amy Luis (@AmyBLuis) May 17, 2016
Packed house at the Lever #talentinnovation Summit pic.twitter.com/dsJ0xannD7

— Carmen Hudson (@peopleshark) May 17, 2016
Our #D&I panel is providing powerful insights on #diversityintech #talentinnovation Tune in: https://t.co/SQOXzWf5Pl pic.twitter.com/2qWqT2oZsN

— Lever (@Lever) May 17, 2016
Make "culture fit" a swear word at your company – it's a cheap excuse for a candidate dismissal @alex_lebovic #talentinnovation @Lever

— Jennifer Kim (@jsnkim25) May 17, 2016
Full house at Lever's #TalentInnovation Summit in SF! pic.twitter.com/KU5BaYY1jU

— Mark Menke (@marktmenke) May 17, 2016
If you're closely tracking source of hire, you should look at the trends in the funnel – not just the start. #talentinnovation

— Katrina Kibben (@KatrinaKibben) May 17, 2016
"Data should inform – not drive – the decision-making process in recruiting." Great point from Garry Ma of @GetBrilent #talentinnovation

— Kyle Lagunas (@KyleLagunas) May 17, 2016
Love it when recruiters talk marketing! Great quote on brand building @BailenOut @eventbrite #talentinnovation pic.twitter.com/gtgF4S3hAk

— Lisa Cervenka (@BrandNRD) May 17, 2016
"70% of the time the decision to hire is made within the first 3-5 minutes of the interview." #talentinnovation #fightingbias @teckstco

— Ji Young Choi (@jycji) May 17, 2016
THIS is what #TalentInnovation looks like at @Lever. We're only missing one thing… @srhnhm can we get a mic drop? pic.twitter.com/hXQiwGQNgu

— Joshua Ackerman (@JoshuaAckerman) May 17, 2016
"The biggest compliment for a recruiter is when someone didn't get the job but still fell in love with you" @williamtincup #talentinnovation

— Kari Loftesness (@kloft32) May 17, 2016
The recruiter experience should be just as good as the candidate experience. #talentinnovation

— Katrina Kibben (@KatrinaKibben) May 17, 2016
.@mattcharney: Go see what the candidate will see on the consumer side before you decide which tool to buy. #talentinnovation

— Lever (@Lever) May 17, 2016
"There are potential hacks at every stage of employee lifecycle" Man I want to borrow @williamtincup's brain for a day 🤓 #talentinnovation

— Jennifer Kim (@jsnkim25) May 17, 2016
What comes first process or technology?
Actually equal, you can't have one without the other and succeed @elaineorler #talentinnovation

— Weirdly (@WeirdlyHub) May 17, 2016
Hiring in 2025 – it won't just be talent acquisition. It will be talent strategy. BOOM. @elaineorler #talentinnovation

— Chris Shaw (@CShaw4) May 17, 2016
WELL DONE @KyleLagunas wins the day; "recruiters have judgement. A computer will never replace that." *audience applauds* #talentinnovation

— Jer Langhans (@majiksourcer) May 18, 2016
"Rejection says more about the rejector than the rejected." – The brilliant @JiaJiang. Thank you for dropping knowledge at #talentinnovation

— Joshua Ackerman (@JoshuaAckerman) May 18, 2016
We take every "no" as an indictment and every "yes" as an affirmation. But really it is just an opinion. @JiaJiang #talentinnovation

— Donna White (@donnawhite) May 18, 2016
"Rejection was my boogeyman. But as soon as I chased after it, it became my biggest gift in life."- @JiaJiang #talentinnovation

— Lever (@Lever) May 18, 2016
"Rejection is just a numbers game and someone else's opinion." #JustAsk – amazing closing keynote by @JiaJiang #talentinnovation @teckstco

— Ji Young Choi (@jycji) May 18, 2016
Exhausted but still stoked from yesterday's big day. Thanks to all who came out! #talentinnovation pic.twitter.com/xJ6yfJtZ6g

— Ciara Trinidad (@CiaraTrinidad) May 18, 2016